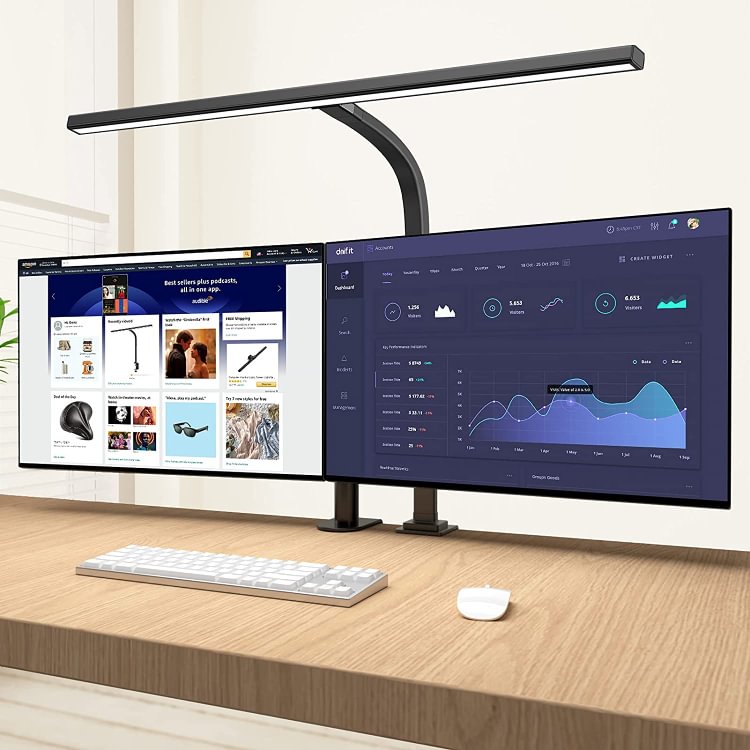 5-Inch LED Light Bar Illuminates Your Entire Work Area
If you're looking for a bright desk lamp that can light up your entire work area, look no further than the Architect Clamp Desk Lamp. This lamp has a large, 31.5-inch LED light bar that provides plenty of illumination, making it perfect for reading or completing detailed tasks. It also features an adjustable arm and clamp mechanism, so you can customize the lighting to fit your needs. Plus, the sleek design will add style to any desk.
Reducing Screen Glare with The Office Lighting Lamp
The Office Lighting Lamp is perfect for reducing screen glare and providing 100% flicker-free light. The angled away LEDs and side lighting design create a comfortable and productive work environment.
Desk Lamp is Bright and Easy to Control
This LED office lamp is the perfect minimalistic addition to any desk. With a touch of a button, you can easily control the light's brightness and make your work area as bright or dim as you need. The lamp is also space-saving, making it a great option for small desks. Plus, it has a stylish design that will look great in any office setting.
Features:
No flickering LEDs and diffused lighting gently
Flexible neck design allow bend to any direction
Space saving clamp can be fixed on 3.34in/ 8.5cm thickness desk edge
Lights the whole desk without consuming any desk space, increases quality of life
Durable structure with powder-coated aluminum alloy and silicone
Specifications:
Light Length: 31.5-Inches
Color Temperature: 3000K-6000K
Metal Clamp: 3.34 in/ 8.5 cm thickness desk edge
Working Height: 21 in-27.5 in