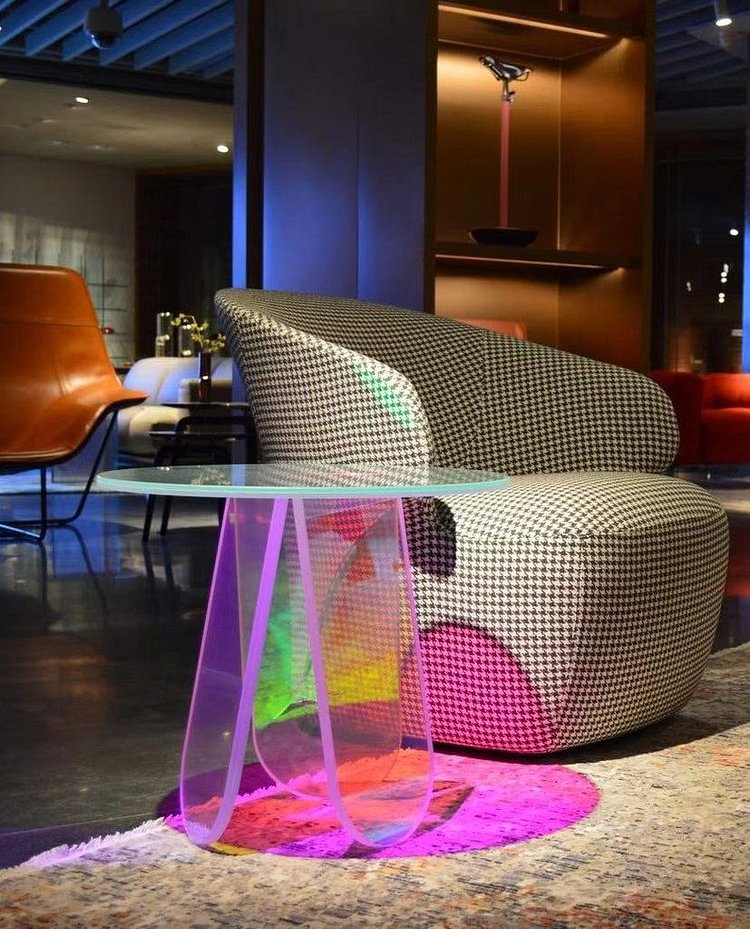 More Reviews From Our Twitter Fans:

JAPANESE ELEGANCE COMBINED WITH MODERN DESIGN
The Lightsmoon Signature Coffee table is a group of low laminated glass tables, characterized by a special iridescent multicolored finish; the nuance varies according to the incidence angle of the light and to the vantage point. Objects with magical and ethereal appearance emerge.
The lovely combination of round top and clear geometrical legs infuses elegance into the surrounding while bringing uniqueness to the structure. Featuring a brilliant hue, this outstanding piece features different colours from different angles, charming and tasteful.
• Made to Last: Made out of acrylic.
• Hand-crafted: Hand-shaped by the moon artisans to ensure both quality and integrity
• Timeless Finish: Our special iridescent multichromatic finish ensures a long-lasting - reflective and shiny finish.
JAPANESE ELEGANCE COMBINED WITH MODERN DESIGN
The Lightsmoon artisans conceived this stylish table to exalt the versatility of glass. The iridescent finish boasts ever-changing hues that shift depending on the light source, angle, and position of the viewer.
Material: Acrylic
Thickness: 10mm (Small), 12mm (Large)
Small Table Length: 40cm/15.7" Width: 40cm/15.7" Height: 45cm/17.7"
Large Table Length: 95cm/37.4" Width: 50cm/19.7" Height: 33cm/13."
LOVE TO SHOP? HATE TO WAIT?
We offer FREE express FedEX worldwide shipping. Most international orders are on a flight to your country within 12 hours of placing your order. If you have any questions please email us [email protected]

LIGHTSMOON SATISFACTION GUARANTEE
Our products are designed and manufactured to perfection. However things do happen. Not happy with a recent purchase? Contact us and we will be more than happy to exchange or refund your order.

FRIENDLY RESPONSIVE CUSTOMER SERVICES
LIGHTSMOON™ team are dedicated to providing a premium unparalleled shopping experience. All emails and queries are responded to within 24-48 hours.
More Reviews From Our Tiktok Fans: