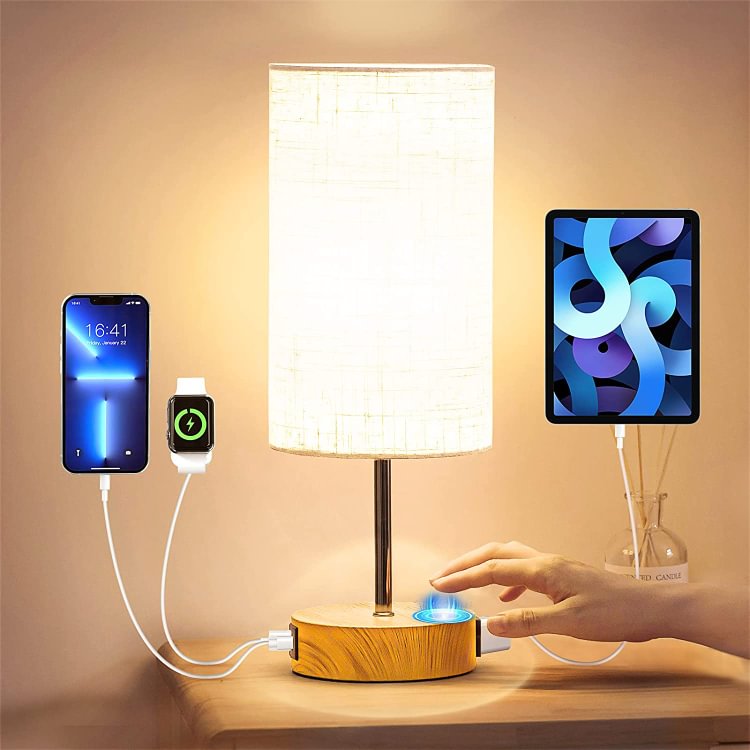 Customize your light however you want with our Dimlight touch control table lamp!
Our Dimlight touch control table lamp is perfect for quick, easy adjustments to your lighting. With three different light settings to choose from, you can customize your light however you want. The touch-sensitive sensor makes it easy and convenient to use, so you can get the perfect amount of light in any situation.
Dual USB Ports and an AC Outlet Make This Lamp Perfect for Bedroom Use
This modern table lamp is perfect for bedroom use. It not only provides illumination, but also has two USB ports and an AC outlet so you can charge your devices.
Decorate With Style With Our Sleek And Modern Dimlight Lamp!
Our Dimlight touch dimmable table lamp is perfect to decorate anywhere in your house, from the small desk to the bedside table. The lamp has a sleek and stylish design that will complement any décor. It's also very easy to use; just touch the sensor on the base to adjust the light level.
Get the Brightness You Need While Saving Money and Energy
If you're looking for an affordable, eco-friendly light bulb option, look no further than Dimlight! Our pairing with energy-saving E26 bulbs ensures that you'll save money on your electric bill and help the environment. Plus, our LED technology provides a longer lifespan than other light bulb options.
Features:
30% Sleep light

: Soft lighting is easy on the eyes and promotes better sleep.
65% Comfortable light

:  Soothing lighting is ideal for bedtime reading, unwinding before bed, watching TV or after stepping out of the tub, alleviating the fatigue of the day.
100% Bright Light

: Bright lights provides perfect glow to illuminate any room
Specifications:
Material: ‎Stainless Steel, Linen
Light Direction: ‎Adjustable
Luminous Flux: ‎800 Lumen
Type of Special Features: ‎E26 Light Bulb Included, 3-Way Dimmable, Bedside table lamp with USB A+C charging Ports & AC Outlet, Touch Control